Subscribe on: iTunes | Stitcher | Google | Spotify
UPDATE: In June 2021, Amazon now allows sellers to send direct messages to reviews/buyers. Read more in our full post, "Contact Amazon Buyers from Customer Reviews on the Brand Dashboard."
At SellerSmile, we keep our ear to the ground for important customer service-related updates in Seller Central. Every update can have an impact on our clients' businesses and our own internal procedures.
We recently discovered an exciting update related to reputation management for product reviews. This new feature, called the "Customer Reviews" dashboard is compelling for several reasons. We cover the update and our top takeaways below.
First, where do you find the new dashboard?
As of 6/17/19, the "Customer Reviews" dashboard can be found at sellercentral.amazon.com/brands/reviews.
If you're a brand-registered seller, you'll see the "Brand Health" widget on your Seller Central homepage. From here, click on "View Brand Dashboard".
On the left-hand side, select "Customer Reviews".
Here you'll notice all of your reviews from the last 30 days. You have the ability to filter by star rating and time period (including the options "This week", "Last week" and "older"). The interface also includes a search field for filtering by ASIN.
From here, all ASINs include each buyer's review, a direct link to the product, and the product's current review rating.
Sellers are allowed to take several actions with product reviews, such as:
Add a comment: Reply to your buyer's review directly through the interface.
Mark as done: Once any necessary action is taken, this is a way to mark the review interaction as complete.
Report abuse: Per Seller Central's help article, "If you discover a review that doesn't conform to our customer review policies or our customer review creation guidelines, you can report abuse from the product detail page."
Amazon's article "Customer Reviews on the Brand Dashboard" states that review data is retained for 30 days.
What does this update mean for sellers?
1. Amazon wants sellers to pay close attention to product reviews.
Just a couple of weeks ago, we were on a client call discussing the topic of review management. Our client expressed their dissatisfaction with the challenge of managing Amazon product reviews in an efficient manner. While 3rd-party software exists that can help, sellers sometimes have trouble with 3rd-party review dashboards, because they do not update live or are limited in another way. During our call, we theorized that Amazon was likely working on their own tool for this and that we would see it in the near future.
Lo and behold, Amazon must have been listening to our wishes as we learned about the "Customer Reviews" dashboard just a few days later.
By providing a convenient method for managing product reviews, this update shows Amazon cares that sellers interact with their reviews. Sellers play a vital role in keeping buyers coming back to their products, but also back to shop on Amazon's platform. It is in both the seller and Amazon's best interest to provide the best possible experience for the customer.
Sellers can provide an excellent experience by paying close attention to what buyers are saying in product reviews and taking steps to help buyers who need it. The ability to comment on product reviews directly from Seller Central gets rid of a lot of manual work and serves sellers in helping reviewers as fast and efficiently as possible.
2. Amazon is focused on improving the review system overall.
The ability for sellers to report abuse on product reviews, directly from the "Customer Reviews" dashboard, can mean that Amazon is counting on sellers to help improve the authenticity of reviews altogether. If a review doesn't conform to customer review policies, Amazon encourages sellers to help by reporting abuse.
Recently, on Ep.007 of the Keep Smiling podcast, we briefly discussed several new updates related to product reviews, on the shopper side:
Feature rating: buyers can leave additional 1-5 star ratings on different product features.
Field prompts: Amazon prompts shoppers, "What's most important to know?" "What did you like or dislike? What did you use this product for?"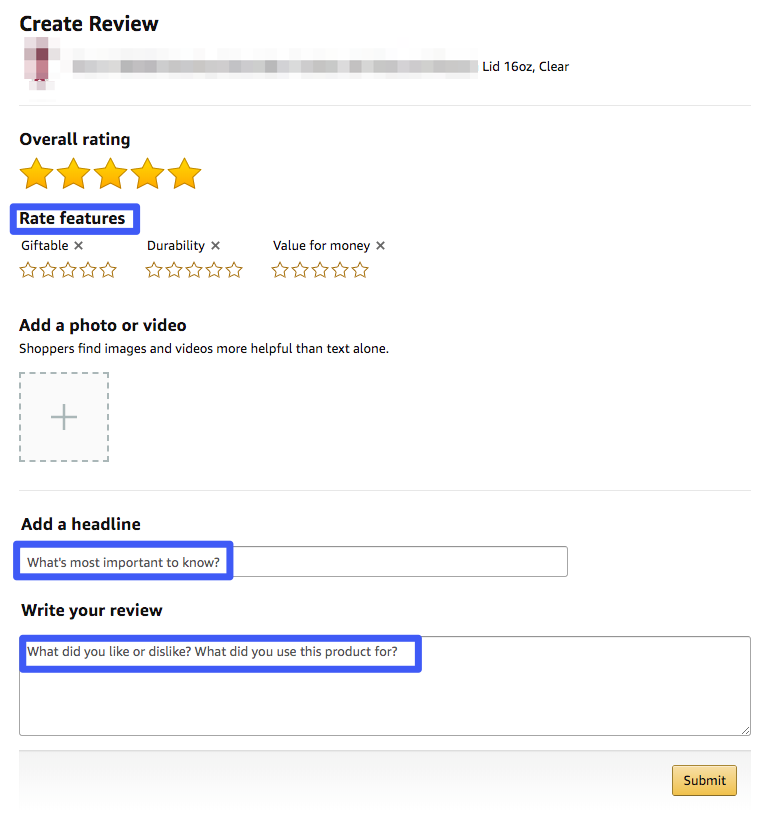 In addition to this, shoppers are presented with a review submission message stating that the review may take a few days to process. In total, it took roughly 2 days for my review to process and go live.
Interestingly, we discovered that (as of 5/30/19), shoppers do not currently get notified when a comment has been left on their product review. The Amazon app informs shoppers that the review was found helpful, but does not provide an interface to view any comments left on the review. There was no email or alternative notification.
As of this writing, commenting on product reviews seems to be more helpful for other potential buyers. Other buyers may stumble across the review, see that you are willing to help if an issue does arise, and increase their likelihood of shopping with you in the future.
We would not be surprised if some form of notification is provided for shoppers soon. We expect more functionality to be added to the "Customer Reviews" dashboard in the near future as well.
Final Thoughts
Amazon is further bridging the gap between shoppers and sellers. These updates show that Amazon wants to continue earning buyer trust by facilitating the way sellers engage with product reviews, and by encouraging more authentic reviews. By specifically providing updates to the way both parties interact with product reviews, the shopping experience on Amazon is only further improved.
If you're not already engaging with your Amazon reviews, now is a good time to start! For tips on effectively managing your product reviews, check out our post: "Reputation Management: How to Get the Most Out of Your Product Reviews and Customer Feedback".
Every customer service related Amazon update is always exciting. They consistently strive to improve the customer experience and we believe e-commerce sellers should always pay close attention to how this can impact their business.
If you'd like to outsource your review engagement with confidence, SellerSmile offers reputation management services including:
Product review and seller feedback management through commenting on positive and critical product reviews and seller feedback.
Seller feedback removal.
Critical product review/seller feedback resolution via direct messages.
Historical review audits.
See if SellerSmile services are right for you by scheduling a call with our team at SellerSmile.com/Schedule.
What are your thoughts on the latest changes?
Let us know in a comment below.
Keep smiling!
Links: